For Remembrance Day you might like to make this beautiful poppy. Poppies are used as a symbol of remembrance and peace.
These beautiful poppies are made from recycled materials you can find at home, plus a little extra bling! You can turn them into badges, add them to celebration hats, or make big versions to put into your window on Remembrance Day.
What you need
Plastic bottles or cardboard
A bottle top or button for the centre
Glue
Scissors
Pencil
Black pen or marker
Sequin ribbon, or glitter if you want to decorate your poppy
You can make your poppy from any materials like plastic or card. The examples we show here in the photo are from green and red plastic containers, and green and red cardboard… but if you don't have these colours you can colour or paint any card or plastic you have like cereal boxes. If you don't have a black bottle top you can also paint that, or cover it in black tape like in the example below. Just get creative!
Create your poppy design
It might help you to draw a poppy first, so you can think about the pieces you want to cut out of your recycled materials.
Once you have an idea of the petal shape, cut out your petals – you will need between 4 and 6 for each poppy (it is up to you!). Once you have cut out your shapes – and painted them if you need to – you can draw lines on them in black marker pen like in the picture below.
For the leaf, you need to cut out your design in card or plastic, and paint it green if you need to. If you don't have a black bottle top or button, try to paint one that you do have. Or you can cut out and colour a round piece of card black.
Putting your poppy together
It is a good idea to cut out a circular base of card like in the example below, to which you can then stick your leaf and petals to to form your poppy.
Stick your leaf to the back of the circle, and then each poppy petal in turn on top. Finally stick your bottle top to the middle.
If you are using recycled plastic a glue gun might work better. Leave to dry before decorating.
For both plastic and card, you can create a bit of shape to the poppy by pinching the petals in half to fold them slightly.
Decorate your poppy
If you have any glitter, or sequins, or jewelled ribbon then you might also like to add a little celebratory sparkle to your poppy.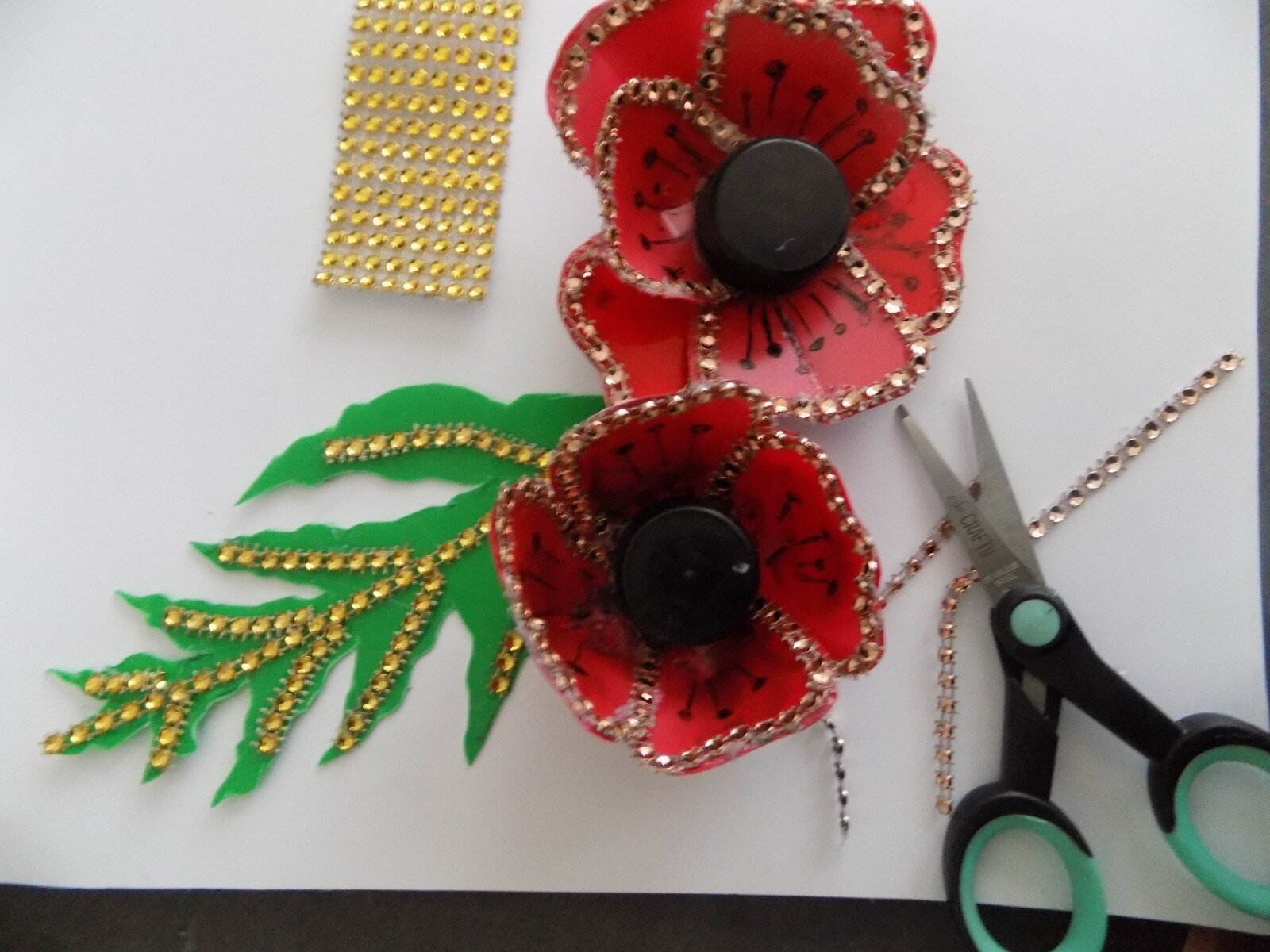 Turn your poppy into a badge
If you have an old badge lying around, or even a safety pin, you can turn your poppy into a badge that you can wear very easily by sticking the pin to the back. Here we used tape.
Another idea: why not create a really big poppy from card or paper and put it up in your window on the 8th May?
Please share your poppies with us on social media – we would love to see them!